NUDES ON TAP IS AN ANNUAL EVENT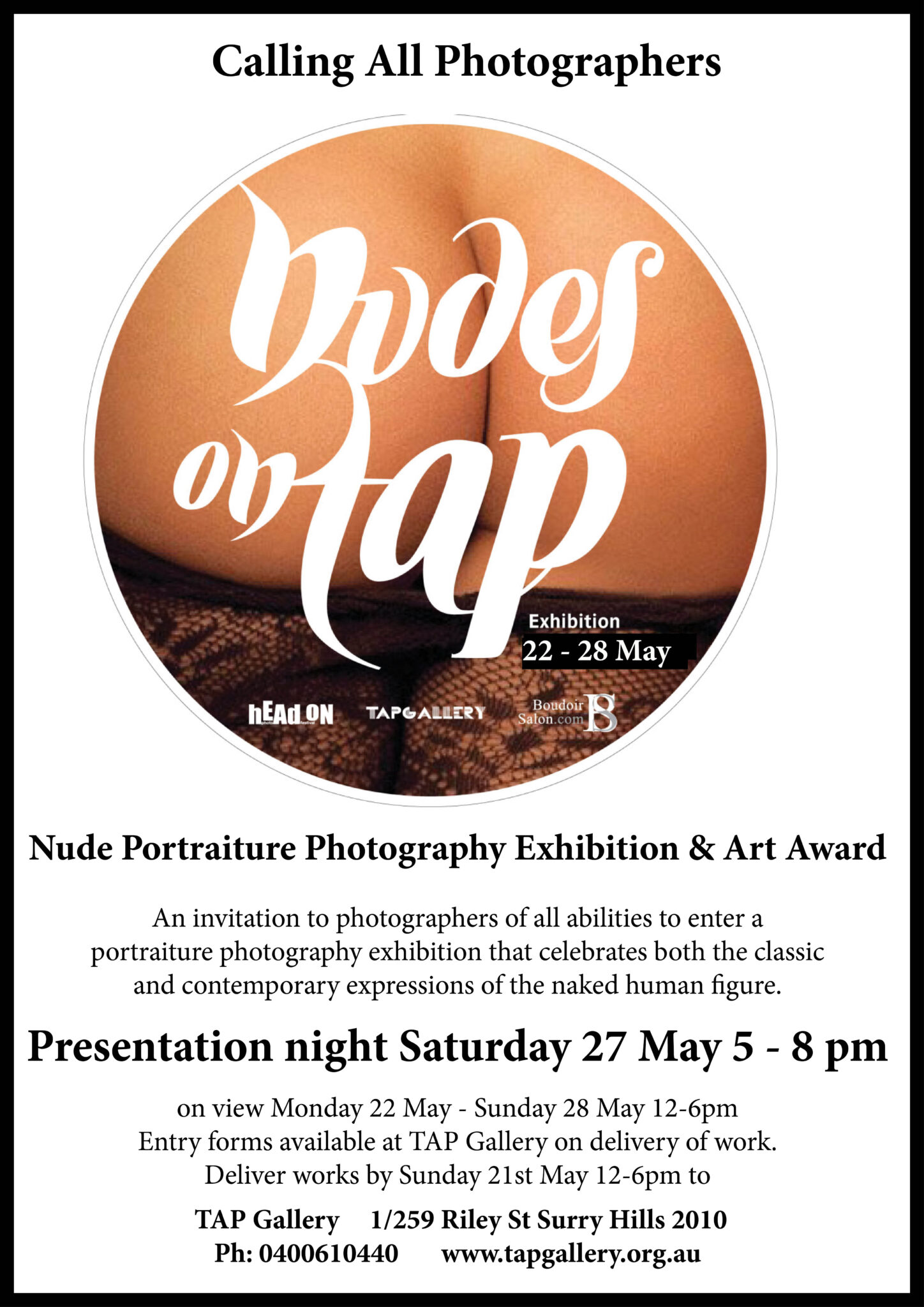 For the eighth consecutive year TAP Gallery is staging the very successful Nudes on TAP as part of the Head On Photo Festival. Head On Photo Festival is Sydney's major innovative showcase for Australian and international photography of all genres and is the largest event of its kind in Australia and the second largest in the world.
"Nudes on TAP" is one of the Festival's events and is essentially a nude portraiture photographic competition that showcases the work of photographers who are passionate about capturing the sensuality and beauty of artistic nudes. The exhibition is an invitation to photographers of all abilities to enter the photography exhibition that celebrates both classic and contemporary expressions of the naked human figure in stylish, exquisite compositions and interpretations.
As one of the events of the Head On Festival, the competition is open to everyone and anyone and provides an excellent opportunity for emerging photographers and photo artists to gain exposure, raise their profile within the creative community and be recognised amongst their peers of the photographic industry.
To download the entry form, please just right click on the image below and choose "save as".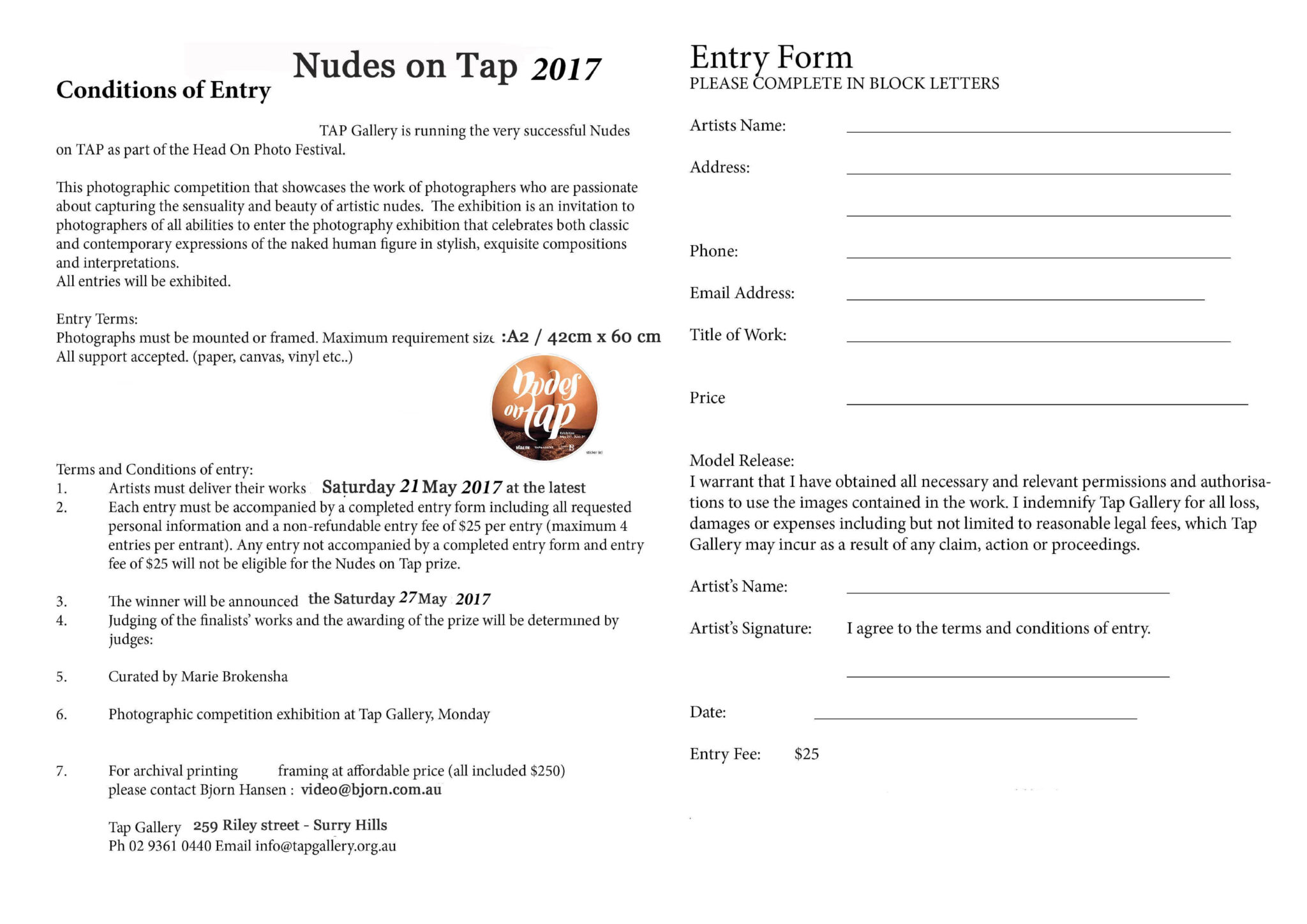 Photographic prize sponsor:Photo-Shop-Studio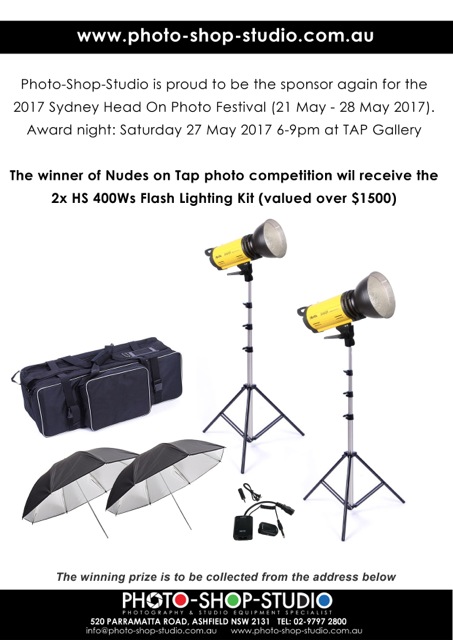 LISTING INFORMATION
Venue: TAP Art Gallery
Address: 259 Riley St Surry Hills NSW 2010 (please note we have moved)
Dates: 22-28 May 2016
Time: 12pm – 6pm (daily)
URL: http://www.tapgallery.org.au / www.headon.com.au
PRESS CONTACT: Marie Brokensha, marie@brokensha.com, 0408 117 535
The dates of the NUDES ON TAP 2017 are 22 – 28 May with a festive presentation event on Saturday 27 at 5pm, We will have 60 metres of wall space for hanging with an added panel down the middle. This means we can hang over 60 works, or hang salon style for smaller works. Artists must send their works to Tap gallery which will be moved to  L1/259 Riley St. Surry Hills by Sunday the 21st of May 12-6pm. We welcome all artists to enter their works!
TAP Art Gallery & Function House
Ph: 0400610440
Email: info@tapgallery.org.au
Address: : L1/259 Riley St. Surry Hills, NSW 2010
Gallery: 12 – 6 pm daily   Venue for Hire: 6 – 11pm
There will also be a People's Choice Award voted by the guests on the night.