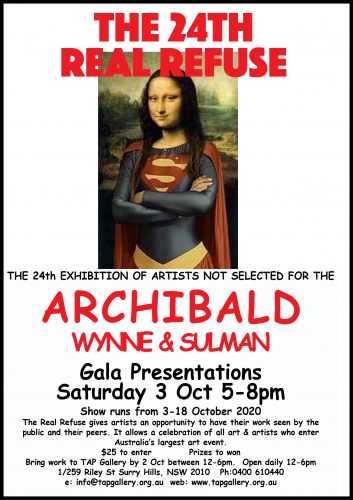 For the past 24 years TAP Gallery has hosted the
REAL REFUSES
Being hung in the AGNSW is a prestigious achievement.
Never give up!!
Every year I go in the Archibald., knowing I probably will not be selected, however I can at least show the work to my peers & the public at TAP Gallery.
Not every one can get hung in the AGNSW but we guarantee to hang all rejected works at TAP GALLERY.
See our online gallery of works from previous Tap Real Refuse's shows.
If we encourage each other every year to enter, one of us will get hung at some time in our artistic career.
Here is the address below to apply for the Archibald/Wynne/Sulman competition:
https://www.artgallery.nsw.gov.au/prizes/archibald/enter/
Real Refuses has become firmly established as part of the "Archibald Season".
While it is an exhibition of rejected artwork, it is much more than that…
It is about giving a fair go to all the artists involved in Australia's largest art events.
Not everyone can win an Archibald but here everyone can exhibit along side their peers. (You'll find past winners of Australia's biggest art prizes here as well!)
In the past an extraordinary range of subjects from musicians, actors, politicians including the NSW Premier, Mayor of Willoughby, Anthony Mundeen, Tony Abbott, Leo Sawyer, the then Prime Minister John Howard, Madame Lash, Elizabeth Cummings, Professor Bruce James Brew, and Jaiwei, (a winner of the Sulman.)
We can't wait to see the works not selected this year
GALA OPENING: Saturday 3 October 5-8pm 2020
(includes the "People's Choice Award")
Prizes to be won!
ON VIEW: 3-18 Oct 2020 12-6pm Daily
TAP GALLERY, 1/259 Riley St Surry Hills 2010
CONTACT: Lesley Dimmick, TAP GALLERY on 0400610440