We intend to go ahead with the exhibition at a later date.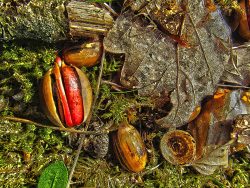 ANJA MEIXNER – PHOTOART
'The Forest Within Me' PHOTOART
by Anja Meixner 6-12 April.
OPENING DRINKS TUESDAY 7TH APRIL 6PM
Artist's Statement:
He fell in the early morning red: Alexandra, is a homage to the tree.  The Forest Within Me is about the spiritual dimensions  that deal wistfully in the growth of its biodiversity.  The forest is a superior life force to me, I feel part of the forest, without the forest there would be no means to draw breath.
The works in this exhibition, are no longer existing or endangered trees are to be revealed as forest monuments, which I have immortalised with my camera over extensive periods of travel through experiencing the many and varied forests of the world. for more than two decades I have documented the forests in New Zealand, America, Asia, Australia and Europe, that I was deeply impressed by 20 years ago and now can no longer see. This is when I realised that these earlier series of photographs are monuments of memories from the forest that no longer exists today, that have been irretrievably lost, cleared, or burnt, burnt like an island.
The forest within me  does not just mean my personal relationship to the tree. It seeks to show how vital humanity is deeply interwoven with the forest.  On Earth, there are only seven significant, contiguous forest and jungle areas. Every day they shrink by many thousands of hectares due to human intervention.  The forest does not need humans, but humans need the forest to breathe.
If you do not know the trees, you treat them all like firewood, a proverb from Uganda.  Trees could teach us to surrender to the wind of life.  Instead, we use the forest for entertaining economic benefits destructively.
Inside the forest, there are an infinite number of ways in which trees group in their distances to each other and open paths or clearings for humans. The number of trees and how they are set up in relation to each other is so great that we as human beings are able to experience contact with our physical extent in the interior of the forest, not with the outside. The view is wondrously distorted. The forest is so big that it may engulf us all, it is with great effort that we have to navigate ourselves to leave. This is when you can begin to talk about another time in the forest, as forest time.
If it is just a group of trees, then in a group of trees we are visually and emotionally in contact not only with the trees, but also with the open environment.
A number of my pictures are unedited. The others use graphic imagery to reflect this personal relations to the tree as an  individual monument, an homage to the many trees that are within the forest. This is the forest within me that I come from.
BIO
Anja Meixner was born in Germany (1966) and lives between Würzburg Germany and Sydney Australia.  She discovered media film and photography at Cologne University, while completing a Masters course in Anthropology. Meixner is convinced that you can come closer to conclusions about a foreign culture or rather the human condition through methodologies in the arts. She has done a lot of courses in film and photography at famous universities: Göttingen, Rockport, Maine and institutions; Australian Film and Television School (AFTRS); Australian Centre for Photography and the National Institute of Drama. She was the set photographer at AFTRS. Her work investigates subjects that explore: the complexity of gender; the estrangement of the human being from nature and from oneself; the ambiguity of the representation of power and its fragility and the production of life as a big party.  For more than 20 years Meixner has been exhibiting digital artwork in galleries in Germany and Australia.