Press Release: Revelation: Narratives of an Imagined Future by Debra Phillips November, 2017.
Debra Phillips' solo exhibition of 15 framed paintings (60 x120 cm), Revelation: Narratives of an Imagined Future, forms part of her PhD by Creative Project (commenced 2013, in progress) at Australian Catholic University.
Debra's artwork, which includes community-based art projects with North Sydney Council, has been central to her academic articles and conference presentations, the latter including presentations at the Art Gallery of NSW and, in January 2018, The National Gallery in London.
This exhibition, "Revelations, Narratives of an Imagined Future", follows from her 2016 -2017 solo exhibition at the InsideOut Gallery, Macquarie Hospital in Ryde where she explored the lived experience of depression and suicidality.
While there is increasing research about the benefits of art therapy during an episode of mental illness, there is emerging evidence that the doing of the task, art-making itself, is an important factor in assisting people to see a way through mental illness.
Rather than deliberating over the whys and hows of depression, Debra focusses on imagining and creating a future dominated by art-making and the quest to become an artist.
Her paintings reveal her engagement with story-telling, her spirituality, her acceptance of depression as part of the lived reality, her intention to complete the PhD and the continuing quest to become an artist.
The term "quest" is the most apt expression for it is the search for something the soul longs to have. For Debra, it has been, and will continue to be, a life-long search.
Seven paintings are set in an imagined landscape dotted with trees and castles, similar to that depicted in medieval paintings. All of them have figures. If you notice a resemblance to Debra it is because all the figures, apart from Jesus, are self-portraits. Debra has worked aspects of her self and her quest to become an artist into the paintings.
By using personalized motifs of rupture, instability and chasms, the paintings reveal that we are susceptible to reoccurrences of mental illness, and this matter is acknowledged when imagining the future.
Five paintings represent imagined studios in imaginary places, because every artist needs a room of their own. They are both site specific and location specific. Three have a European context (London, Berlin, Riga) and two have an Australian context (mythical Queensland and the NSW coastline).
Many people will be able to place the source of inspiration for these five paintings: Christopher Richard Wynne Nevinson's painting, "A Studio in Montparnasse" (c. 1925). His painting, on loan from the Tate Gallery, London, was exhibited at the Art Gallery of NSW, in 2016.
Debra's set of five paintings show an artist at work surrounded by art equipment, books, coffee and cake, a cat, and the paraphernalia of life. The studio spaces teem with the richness of a life lived to the full. The inclusion of refreshments suggests an anticipated interruption in the routines of every-day life. The viewer is interpolated into the studio space as the guest about to arrive.
The rupture or interruptions into every-day life are important, because it is in these spaces that imagination happens.
The 15 paintings are the result of art-making conducted during 2017 and display the reflexive inter-relationship of imagining a future and believing it is real by living it into being.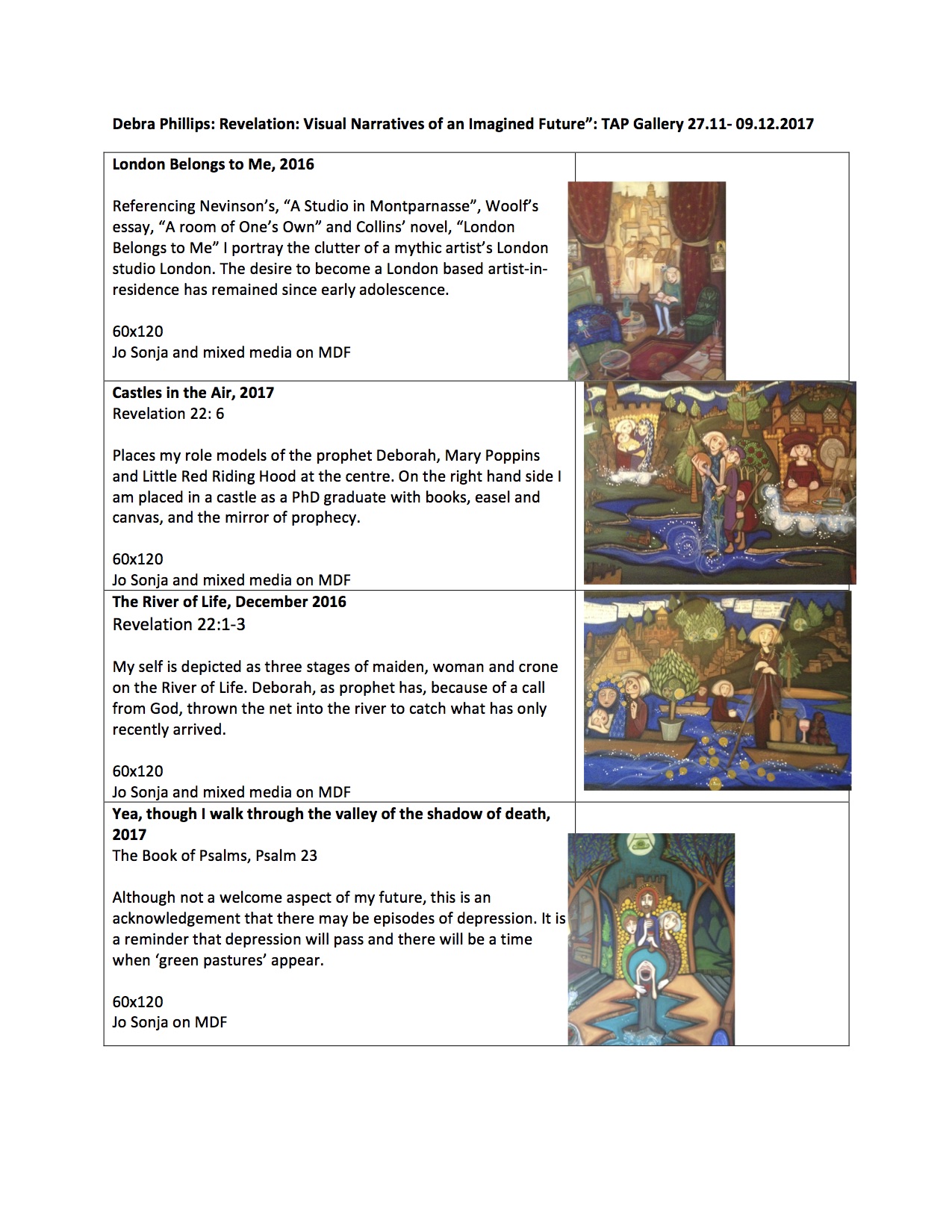 Debra Phillips (04.08.1956)
Key words:   future             imagination              becoming                  narrative
Objective: The solo exhibition, as a component of my PhD presents a series of paintings as visual narratives of my imagined future revealing the quest to become an artist. The shift of narrative from the static present of a failed teacher to a flexible and fluid future of becoming an artist enabled me to move away from depression and suicidality. This is because for the imagined future to become a reality, it had to be lived in the here-and-now. "Revelation", as the complement to the 2016-2017 solo exhibition, "Radical Courage: An exhibition of Trauma, Melancholy and Forgiveness" held at the Insideout Gallery of Macquarie Hospital features self-portraits, interiors and medieval-style landscapes representing the varied aspects of my imagined future.
Medium: I use Jo Sonja gouche and acrylic on MDF board. The paint is applied in a series of layers to build up a dense colour over which I embellish with pattern and small pieces of collage.
Artist Biography
I have painted and crafted since early childhood using skills developed through practise, observation, researching techniques and workshops. Formal training has been through private classes with contemporary landscape artist Barbary McKay and an intensive course with George Gittoes at COFA.
I studied for a Post Graduate Diploma in Expressive/Performing Arts, 1982-1984
I like to use Jo Sonja gouache on MDF board and canvas because it gives a matt finish and allows layering of opaque or transparent washes. I am pulled to experiment with collage (paper, found objects and thread), ink and water-colour on paper.
Since 2014, with the creation of five yarn-storming public art installations there has been an interest in the tactility, durability and flexibility of wool and acrylic yarn. The art installations have provided insight into our need to have quirky art pieces in public places with the deliberate intention to engage people's imagination in their every-day world.
I have exhibited in the North Sydney Centre: 2007, 2009, 2011, 2014, 2015. My works are in private collections: New York, England (London, Bristol, Hull), USA, Germany, Latvia, Sydney, Brisbane, Melbourne and a painting of Milson's Point train station is in the public collection of North Sydney Council.
Much of my work is influenced by understandings derived through academic studies with particular emphasis on feminist theology, melancholia, narratives of the future, the social and cultural context of fairy tales, climate change and the sustainable future. The major influences include works from Sandro Botticelli, Antony Green, Helen Allingham, Shay Docking, Gustauve Klimt, Vilehelm Hammershoi, Amedeo Modigliani, Dante Gabriel Rossetti, Early Christian icons and Indigenous map art.
Previous art work has focused on the affective impact of trauma and the cognitive representation of depression and suicidality through the construction of interiors with maze-like corridors and door-ways. Previous themes include coffee shops of Europe, tea rooms of Japan, saints, medieval feasts, fairy stories, The Stolen Generation and children of post-war Europe.
Art-making Biography from 2014 – present
2017, November: solo exhibition, "Revelation: Narratives of the Imagined Future": Tap Gallery, Sydney
2017, November: community art installation, "Poppies for Peace": Brett Whiteley Place, North Sydney
2017, October: Group exhibition, "Share the Journey": InsideOut Gallery, Macquarie Hospital, Sydney
2017, June: group exhibition, "Baltic Independence Day": Latvian House, Strathfield, Sydney
2016, October – 2017, November: solo exhibition, "Radical Courage": InsideOut Gallery, Macquarie Hospital, Sydney
2016, October: public art installation, "Resilience": Don Bank Museum, North Sydney
2016, July: public art installation, "Saule Mate": Stabu iela Street , Riga
2015, October – 2016, January: public art installation, "Dwell": Coal Loader Reserve, North Sydney
2015, October: community art installation, "Pink Matters": Brett Whiteley Place, North Sydney
2015, June: group exhibition, "Baltic Independence Day": Latvian House, Strathfield, Sydney
2015, March: public lecture and solo exhibition, "Forget Me Not: Stura Maja in Riga": North Sydney Community Centre, North Sydney
2015, March: community art installation, "A Stitch in Time": Civic Park, North Sydney
2014, October – 2015, January: public art installation, "Bloom": Coal Loader Reserve, North Sydney
Academic Biography
D. candidate at Australian Catholic University (North Sydney campus), with the Faculty of Education and the Arts: "Narratives of the Imagined Future"
Education (Hons), M. Religious Education, Bachelor of Education, P.Grad Exp/Perf Arts, P. Grad Remedial Education, P. Grad Special Education, Dip Teach (Soc. Sci).
2017: journal article, "The Shared Features of Art-making and Constructing a Narrative of the Imagined Future": Life Writing: online 8 March 2017: 1-13
http://www.tandfonline.com/doi/abs/10.1080/14484528.2017.1296752
2017: journal article, "Using diary writing: a narrative of radical courage": TEXT Special issue: 38 : 1-14 http://www.textjournal.com.au/speciss/issue38/Phillips&Lindsay.pdf
2016: journal article, "In God's House There are Many Rooms": Feminist Theology. http://fth.sagepub.com/content/25/1/96.full.pdf+html
2018, January: conference presentation, "With this shoe, I thee wed", for "The Arnolfinis History Conference", The National Gallery, London
2017, November: public lecture: "Radical Courage": Stanton Library, North Sydney
2017, June: conference presentation: "Truth, Reality and Fiction: Princesses, fairy-tales, romance narratives and a narrative of the imagined future": 4th Annual conference of the Australian Fairy Tale Society: Melbourne
2016, November: conference presentation: "The 8th Annual International Arts and Health Conference: 'The Art of Good Health and Wellbeing'": AGNSW, Sydney.
2016, June: conference presentation: "The International Society for the Study of Narrative Annual Conference": Amsterdam
2016, February: conference presentation: "Narrative, Health & Well-being Research Conference": Noosa, Qld.
2015, March: conference presentation: "International Congress of Women's Mental Health": Tokyo
2015, August: conference presentation: "The Sacred and the Arts": Sydney
2015, August: invited participant for the Aarhus University, "Summer School in Narrative Studies": Denmark
2013, August: conference presentation: "The Sacred and the Arts": Sydney
Media
Webpage: GrimmArt:                                          https://grimmart.weebly.com/revelations.html
Australian Fairy Tale Society: AFTS and narratives: https://australianfairytalesociety.wordpress.com/2015/05/22/once-upon-a-time-and-narratives-of-the-imagined-future-by-debra-phillips/
Mental Health Month: http://mentalhealthmonth.wayahead.org.au/event/radical-courage/
North Sydney:                                                                                  http://nthsyd.com/debra-phillips/