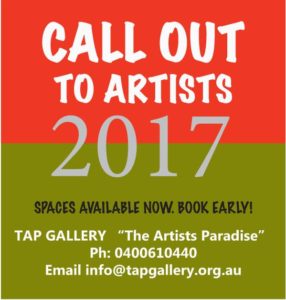 IF  YOU WOULD LIKE AN EXHIBITION
TAP GALLERY IS THE SPACE.
WE ARE NOW TAKING BOOKINGS FOR 2017.
OVER 40 METRES OF WALL SPACE IN THE ICONIC TAP GALLERY.
TAP GALLERY IS AN UNCURATED SPACE misoprostol online WHICH GIVES THE ARTIST FREEDOM AND CONTROL OF THEIR OWN SHOW.
TAP HAS A DEDICATED STAFF TO ASSIST & MAN YOUR EXHIBITION.
CALL 0400610440 & SPEAK TO LESLEY
OR
EMAIL: info@tapgallery.org.au
Do not hesitate!