Online Gallery 2020
Shown below Tap Gallery's Exhibitions in 2020, many artworks featured here are for sale.
Please call 0400 610 440 for details
or email: info@tapgallery.org.au
to enquire about specific works you are considering buying.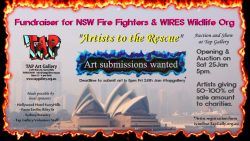 Out Loud Art Prize 2020

Party Girls in the Kitchen
The Forest Within me
Photo Art by Anja Meixner.
Meraki Artists – What is Kalos?

(HeadOn Festival
2020 Pride "Love Stream"

---